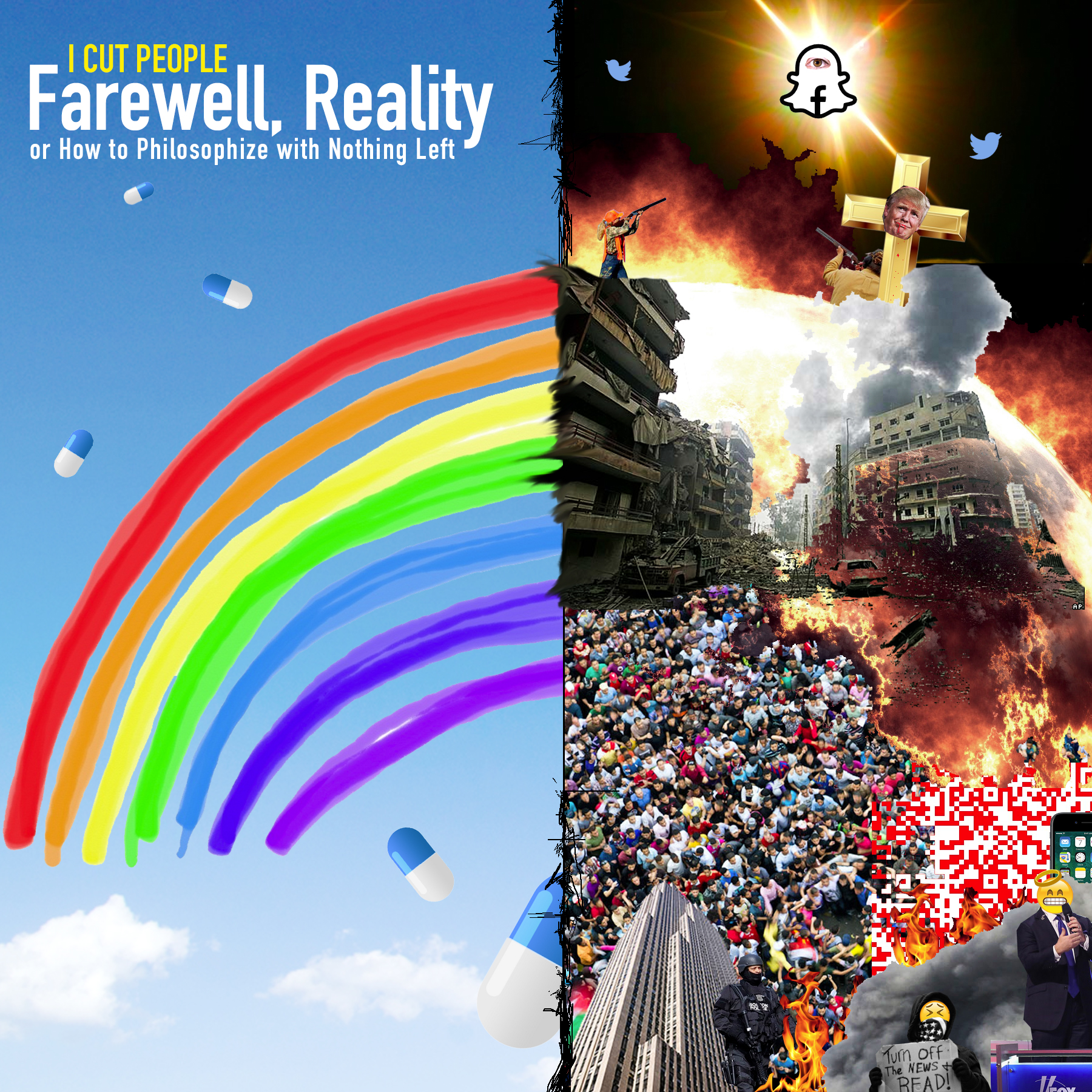 Farewell, Reality or How to Philosophize with Nothing Left
Album Year: 2017
Page: Farewell, Reality Words | PDF: Farewell, Reality Words
Q&A with the Brooklyn Rail: Say Goodbye to Reality
Farewell, Reality or How to Philosophize with Nothing Left is I Cut People's third and last installment in a series of cut-ups deep in the throes of social angst and isolation. This is more than just a collection of polemics, these cut-ups make an attempt to raise important questions and insight into modern philosophical, social, and political dilemmas. Optimistic tendencies are sprinkled throughout and counterbalanced by a hefty dose of pessimism. Awareness, solidarity, and enlightenment are encouraged while overcoming a constant influx of negativity and bad news. Rather than relying on one or the other, optimism and pessimism are treated as equals, both necessary to construct a healthy state of being in a digital world in which our sense of reality is on the verge of collapse. After an unstoppable array of chaotic offenses, I Cut people finalizes the series by reminding the listener about choice, something that in a world of mostly answers and the illusion of a whirlwind of options, is becoming obsolete.
"I wish that every human life might be pure transparent freedom." – Simone de Beauvoir
"There are more idols in the world than there are realities: that is my 'evil eye' for this world, that is also my 'evil ear'…" – Friedrich Nietzsche
"Kiss me and you will see how important I am." – Sylvia Plath
* Farewell, Reality or How to Philosophize with Nothing Left, like other I Cut People albums, is meant to be listened from start to finish without spaces between each track.
Samples: All samples stolen from television news programs, commercials, pharmaceutical ads, talk shows, dramas, christian programs, reality tv.